A friend and I took in Guru's Jazzmatazz on August 2 at the Granada Theater in Dallas. Bavu Blakes and Clever Monkeys opened. Guru brought a seven-piece jazz band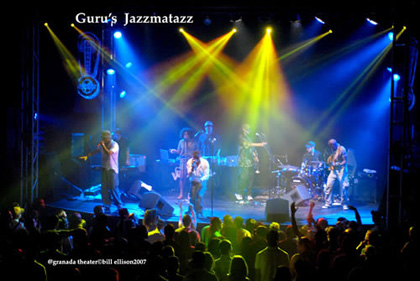 with him that made the set. AmongJazzmatazz favorites such as "Hustlin' Daze" and a heavy selection of cuts from the project's latest release, Vol. 4, Baldhead Slick brought the house down with plenty of GangStarr classics. With Solar also on stage providing the backup vocals, Guru delivered "Ex Girl to Next Girl," "Royalty, "You Know My Steez," and others accompanied by all-new (for the crowd at least), seemingly impromptu music from the jazz ensemble. The Dallas turnout may have been small in number (Big J. of the Clever Monkeys even had to pause to laugh at himself at one point while trying to hype up a room of less than fifty fans), but for a rescheduled, Thursday night show, this frenzied crowd was above the clouds.
Five days later, the Rock the Bells Festival rolled into the Smirnoff Music Center. The acts varied on each date of this tour, but there was nothing wrong with the Dallas lineup: Jedi Mind Tricks, Immortal Technique, Pharoahe Monch, Talib Kweli, Nas, & the Wu-Tang Clan made the trip. Supernatural hosted the event, incorporating jabs at conspicuous audience members in his freestyling between sets.
Vinnie Paz was not too enthused by the small quantity of fans present during Jedi Mind Tricks' set, but the crowd grew as the day wore on and, hey, it was a Tuesday in the Dallas summer heat. Immortal Technique handed out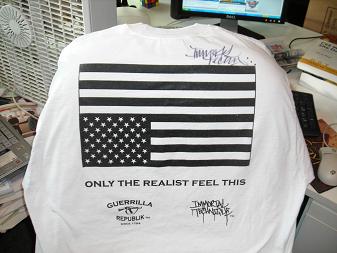 autographs after his brief yet aggressive set, and Nas probably put on the musical apex of the event with anIllmatic medley followed by "If I Ruled the World" (Dallasite Erykah Badu was on hand for the event and sang on stage at one point during the day but, alas, didn't come out to fill Lauryn Hill's shoes). Short of Rage Against the Machine showing up for a surprise set, Rock the Bells 2007-Dallas left little to be desired. After all, the same friend and I were at Smirnoff ten years ago when Rage electrified a mob of fans. Wu-Tang was also supposed to play at that show, but The Roots (who happen to be on the bill for other dates of this year's Rock the Bells tour) filled in at the last minute.